Chat over a pint
Feel free to enter one of the medieval taverns: 't Bronstige Hert and 't Zatte Zwijn. Drink a beer out of a traditional goblet. Besides, a medieval wine like "mede" or "hypocras" can also be tasty. The hungry ones can try for example a "spekkebrood" (bacon bread) fresh out of the wood oven, a "bourgondisch bordje" (burgundian plate) or a "broodje honingham" (bread roll ham and honey).

't Bronstige Hert
The tavern 't Bronstige Hert is settled on the inner court of the castle. Inhale the aristocratic atmosphere and drawn in the rich history of the building of which the oldest part is almost 500 years old. The first tracks of habitation on the domain even date from the 6th century!
't Cruydt ende Ketel
3 Q's

Soete Bruydskoek

5 Q's
Oven baked bacon bread
6 Q's
Grilled sausage sandwich
7 Q's
Grilled ham sandwich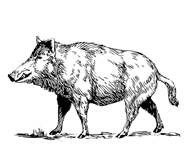 't Zatte Zweyn
't Zatte Zwijn is more a pub meant for those who like spectacle. It's located near the tournament fields and the battlefield. While the children have fun with the folk games, you enjoy the traditional medieval drinks and food. Tension and sensation guaranteed! You'll certainly get thirst of it!
't Cruydt ende Ketel
2 Q's
Piece of Rice Pie
2 Q's
Piece of apple pie
5 Q's
Patty with chicken and forgotten vegetables
5 Q's
Sweet potato pie (vegan)
7 Q's
Pulled pork sandwich with coleslaw
Vrai faux & Faux vrai
6 Q's
Sandwich "Blackwell"
6 Q's
Sandwich "Beef stew"
6 Q's
Sandwich "Stewed chicken"
6 Q's
Sandwich "Vegan"